SPAIRE® Hip Instruments Exclusively Made In Britain by Platts & Nisbett!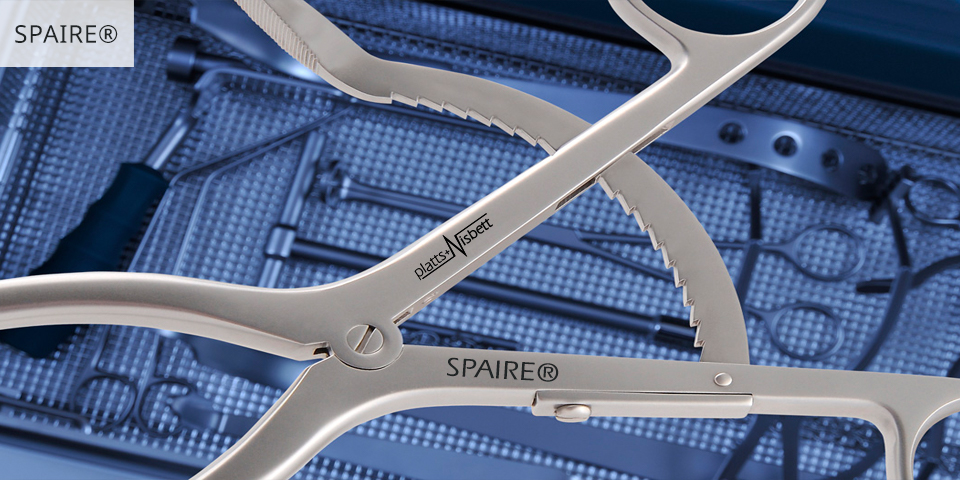 SPAIRE Hip Instruments are exclusively Made In Britain by Platts & Nisbett.
The SPAIRE technique (Sparing Piriformis And Internus, Repair Externus) involves a muscle sparing posterior approach to the hip. Fewer tendons are damaged using the SPAIRE technique than any other approach to the hip as it involves division (and subsequent repair) of only one small tendon. This technique allows patients to mobilise without any post-operative restriction to their activities.
SPAIRE surgical instruments have been designed in conjunction with Professor John Timperley (Exeter Hip Unit), and are manufactured exclusively under license by Platts & Nisbett. Our skilled Sheffield craftsmen individually hand make each instrument to exacting requirements.
The SPAIRE Kit (PN2932) is supplied in a Sterilisation Container, and consists of: -
1 x SPAIRE Offset Hip Retractor, Self Retaining, Odd Leg (Left)
1 x SPAIRE Offset Hip Retractor, Self Retaining, Odd Leg (Right)
1 x SPAIRE Hohmann Retractor, Angled, 18mm
1 x SPAIRE Iliac Wing Retractor
1 x SPAIRE T Handle Retractor with Ischial / Iliac Pins
1 x SPAIRE Reamer Detachment Forceps
1 x SPAIRE Anterior Retractor, Double Angled, 25mm
2 x SPAIRE Trethowan Bone Lever, Ring Handle, 45º, Sharp Tip
1 x SPAIRE Inferior Retractor, 22mm
This range of instruments can only be purchased in the UK via Platts & Nisbett, or via our authorised Distributors overseas.
All genuine SPAIRE Hip Instruments are laser marked with the Platts & Nisbett Logo and bear the SPAIRE® Registered Trademark. Please check for this guarantee authenticity, and ensure you are purchasing genuine SPAIRE Hip Instruments.
More Information is available at the SPAIRE section of our website, or at www.spaire.co.uk.
Please contact us for further assistance with purchasing your SPAIRE Hip Instruments.