The Only Surgical Instrument Maker with Official Made in Britain Accreditation!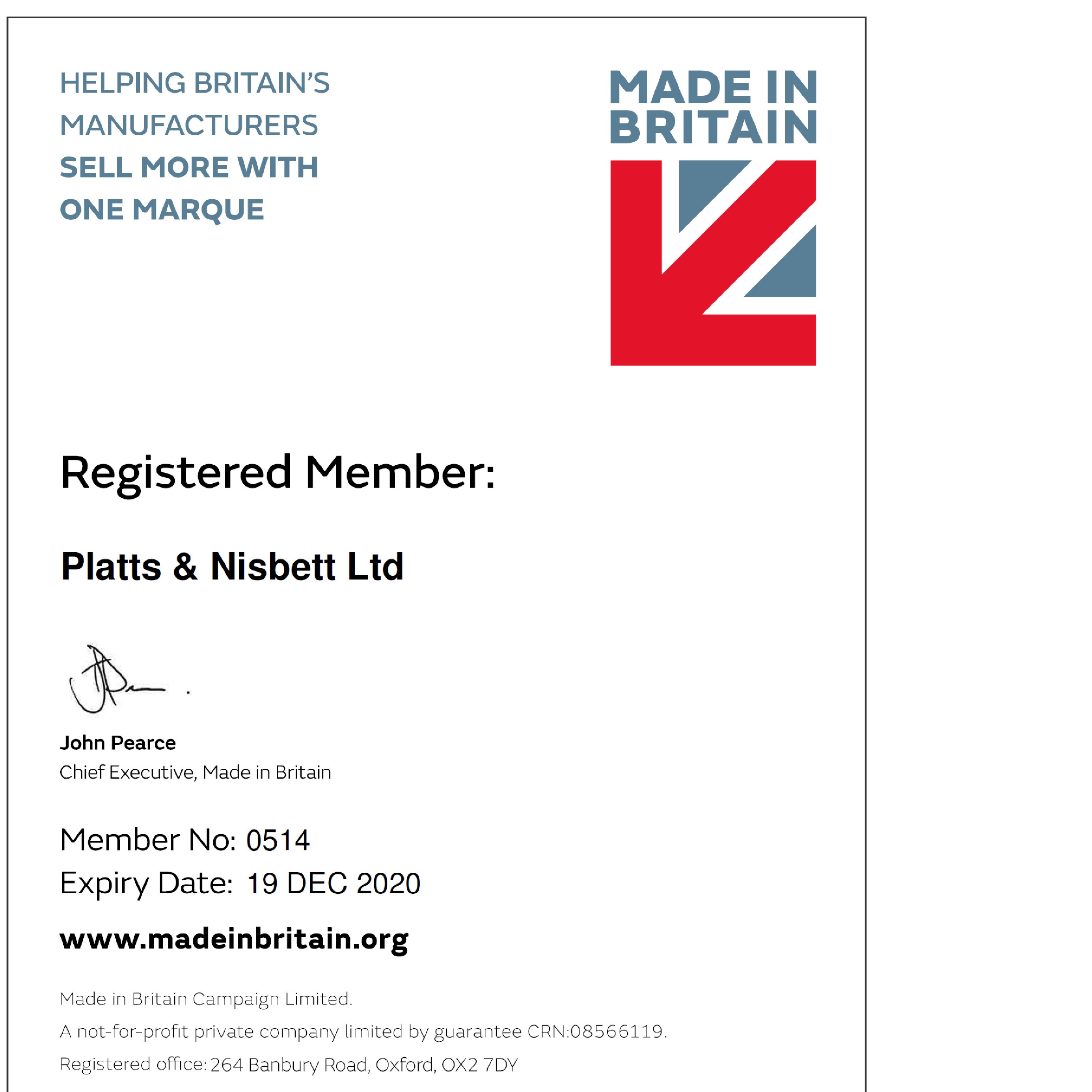 Platts & Nisbett is the only British Surgical Instrument Manufacturer with the official Made in Britain accreditation, and we are proud of it!
The Made in Britain marque is only accredited to businesses who can prove they are selling goods which have been truly manufactured in Britain.
It is protected and can only be used by members of Made in Britain who meet strict criteria to guarantee they are a British manufacturer. There are similar marks being used by organisations that wish to emulate the success of the Made in Britain mark. These copy-cat marks are not registered or protected and do not provide the guarantees given by the official Made in Britain organisation.
Being awarded this official accreditation makes it clear to our customers that we are genuinely making our Surgical Instruments in Britain. They can be confident of the origin of Platts & Nisbett Surgical Instruments.
A recent study, commissioned by Made in Britain, found that more than a third of people admitted they don't know when something is, or isn't made in Britain,  
John Pearce, CEO of Made in Britain, said: "It's so great to see how encouraging the nation is of buying products sourced and produced on their doorstep, with more than half of respondents saying they like to support businesses based in Britain".
Eight in 10 would like to buy more British-made products than they already do. But despite this, 85 per cent don't always consider where something is from before committing to a purchase.
The majority of respondents (86 per cent), polled via OnePoll, agreed it's important to try and buy British, with four in 10 saying British-made products are better quality than those produced in other locations.
Mr Pearce added, "There's certainly a lot of confusion around brands which have a British heritage and those of which are still produced in Britain. Similarly, it can be confusing around which goods are manufactured in Britain, regardless of their founding origin. We want to help create transparency between retailer and consumer – Made in Britain was launched to give a clear 'stamp of approval' for quality, British-made products".
NHS & Private Sector hospitals can benefit from significant cost savings, and get more value for money by choosing British Surgical Instruments. We are continuing to educate them on the advantages of choosing the quality of British Surgical instruments over the cost of the imported ranges.
We are delighted to receive our Made in Britain Certificate for another year, and look forward to contributing to the success of British Manufacturing in 2020.
For more information, or to check the list of registered Made in Britain companies, please visit https://www.madeinbritain.org/