Give Blood, the best gift of all this Christmas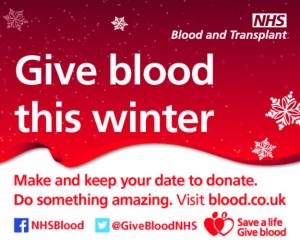 It is always a challenge to collect the right amount of blood to meet patient's needs over the festive period, so with Christmas falling on a weekend this year and creating an extended bank holiday, it needs some careful planning. From 23rd December there has to be a steady supply of all blood groups to treat many types of conditions. As we head into the cold winter months, blood stocks tend to decrease as people stay indoors and are distracted by the festivities over Christmas and the New Year. Although this time is precious, NHS Blood & Transplant is urging more people to donate.
Blood's main components are red cells, plasma and platelets. These are used to treat many different illnesses and conditions. They have a short shelf life, so it is essential that the supply is constantly maintained. Red blood cells can be stored for up to 35 days, platelets can be stored for up to 7 days, and plasma can be stored for up to 3 years.
All blood groups are important; however NHS Blood & Transplant is appealing particularly to O-neg, B-neg and A-neg donors to make an appointment, and those with rare blood types. O Rh negative blood is rare but essential because it is the only blood type that can be given to anyone, regardless of their blood type. Donors with the blood group B Rh positive are more often found in Black and south Asian minority ethnic communities. There is still a long standing shortage of black and Asian donors, who are more likely to have rarer blood types.
With the New Year fast approaching, NHS Blood & Transplant is asking all loyal blood donors to encourage a family member or friend to pledge to give blood in 2017. New Year's Resolutions are typically about giving up; however they would like more people to give. Men can give blood every 12 weeks and women can give blood every 16 weeks. Committed donors are already aware of the value of giving blood and platelets, but just three per cent of the eligible population actively give blood. This means that there are not enough new donors coming forward to provide the right mix of blood to match patients' needs, and to replace people who can't donate anymore.
For more information or to find your nearest session please visit www.blood.co.uk.
You can also download the app by searching 'NHSGiveBlood' in the app store.