Tony Got a Fly-Past! Tribute to WW2 Plane Crash Heroes in Sheffield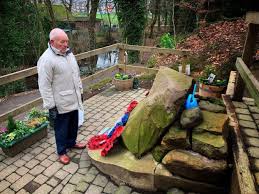 On 22nd February 1944, eight year old Tony Foulds was scuffling with a bunch of fellow schoolchildren in Endcliffe Park in Sheffield when a US bomber plane, a B-17 Flying Fortress nicknamed 'Mi Amigo' came crashing out of the sky. It crashed into the hillside little more than 100 yards away, killing all 10 airmen on board.
Badly damaged whist trying to bomb the Luftwaffe military airbase at Aalborg in Nazi occupied Denmark, 'Mi Amigo' had been limping home to its base in Northamptonshire when its engines failed, forcing its pilot to crash-land in Sheffield.
The bomber had been flying so low that the schoolchildren could see the pilot waving at them to try to usher them out of harm's way. Horrified at what he had witnessed, Tony vowed to honour the fallen airmen.
For more than six decades he has visited the crash site in Endcliffe Park to clean the memorial that was installed there in 1969, and to plant flowers and sweep away dead leaves. Tony, now aged 82, visits the memorial at least three times a week. He has to take three buses to reach the park and often spends three or four hours there maintaining the memorial, before taking another three buses back home.
Tony has continued his silent memorial to the crew of 'Mi Amigo', going completely unnoticed to all but a small number of local residents. But now, following a campaign launched by BBC Breakfast presenter Dan Walker, who met Tony while walking his dog in Endcliffe Park last December, it has been announced that Tony's dream of a fly-past to honour the airmen will take place on the 75th anniversary of the crash.
The fly-past to mark the 75th anniversary of the 'Mi Amigo' crash will take place on the morning of 22nd February. Broadcast live on BBC Breakfast, the fly-past will feature aircraft from both the US Air Force and the Royal Air Force.
Major Sybil Taunton, chief of public affairs at 48th Fighter Wing, RAF Lakenheath, said "As American Airmen serving here, we're really excited and honoured to be able to show our appreciation for all of the wonderful people that have been tending to US war memorials across the UK, by supporting this flyover request.
"While final participation will be driven by weather and mission requirements, we are anticipating a pretty incredible variety of aircraft from US Air Force and Royal Air Force installations, including RAF Lakenheath, RAF Mildenhall and RAF Coningsby. Due to airspace regulations, these aircraft will not fly in one combined formation together but will still put on a fantastic show of airpower in tribute to the fallen crew of the 'Mi Amigo'".
There is sure to be a great turnout in Sheffield, and it will be an emotional day for Tony Foulds who has shown such dedication.